Rok 2018 był pozytywnym okresem dla dolara
Podczas, gdy rynek akcji amerykańskich od początku roku notuje silne wzrosty, kurs dolara amerykańskiego zniżkował i w styczniu przeszedł to trendu spadkowego. Rok 2018 był pozytywnym okresem dla dolara jako, iż zyskał na wartości 4% za rok i ponad 10% od poziomu dna z lutego 2018.
Kiedy giełda USA osiągneła poziom dna w grudniu zeszłego roku, indeks dolara uformował poziom oporu na poziomie 97,50 i nie zdołał pokonać tego poziomu. Aktualnie na poziomie 96,75 został wygenerowany sygnał kupna dla dolara, oraz indeks powrócił do trendu wzrostowego. Aktualnie notowania indeksu dolara znajdują się tuż pod linią oporu.
Wykres amerykańskiego dolara*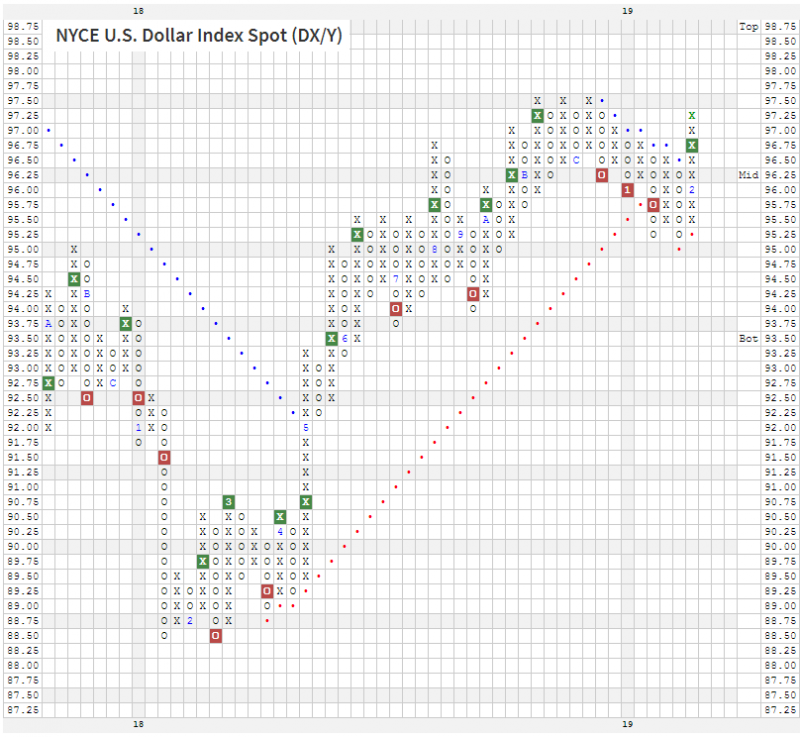 Źródło: DWA/NASDAQ
Analiza punktowo-symboliczna:
Linia trendu zawsze pod kątem 45 stopnii
Kolumna X – wzrosty cen
Kolumna O- spadki cen
Lata- oś w poziomie
Miesiące – liczby naniesiona na wykres
*Historyczne wyniki, nie mogą stanowić gwarancji przyszłych rezultatów. Nie jest to rekomendacja inwestycyjna, jest to tylko i wyłącznie matriał edukacyjny.