Funt traci na wartości, ryzyko drugiego lockdown.
W Anglii rośnie liczba przypadków zakażenia koronawirusem. Co to dokładnie oznacza?
Funt traci na wartości, ryzyko drugiego lockdown
Coraz częściej słyszy się o prawodpodobieństwie /ryzyku tego, iż Anglia wprowadzi drugi lockdown. Co jest powodem nawet rozważania takiej decyzji? Jest to wzrostowa liczba przypadków odnotowania koronawirusa.
I faktycznie, liczba przypadków, osób z wykrytym koronawirusem wzrasta. Ale warto by się dowiedzić, co do dokładnie znaczy CASE/przypadek. Czy przypadek to osoba z silnymi objawiami, czy to soba bez żadnych objawów? Ale to już jest temat do innych analiz. Przejdźmy do analiz finansowych.
Funt traci na wartości na skutek ryzka drugiego lockdown.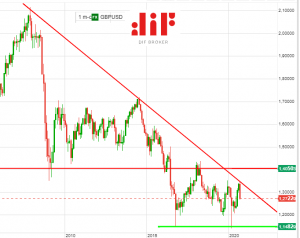 Powyżej wykres pary wlutowej GBPUSD, gdzie każda ze świec obrazuje miesięczną zmianę w obrazie zmienności cen.
Fakty:
Łącząc szczyty powstaje długoterminowa linia trendu spadkowego. Widzimy iż aktualna czerwona świeca z września obrazuje odbicie od tej linii. Pamiętajmy iż jest to wykres miesięczny, wiec abyśmy mogli mówić o faktycznym odbiciu, musimy poczekać na zakończenie tego miesiąca.
Spójrzmy teraz na sytuację angielskich akcji, reprezentowane za pośrednictwem funduszu ETF Vanguard FTSE 100 ETF.
Wykres dzienny ETF, ticker VUKE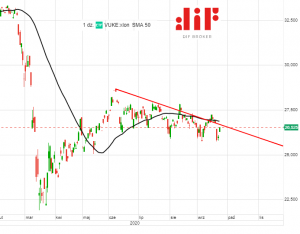 Widzimy, iż angielskie spółki zanotowały dużo mniejsze odbicie, anieżeli miało to miejsce w USD, czy w Niemczech.
W tym momencie notowania znajdują się poniżej średniej ruchomej z ostatnich 50 dni. Widzimy także iż notowania znajdują się poniżej średnio-terminowej linii tredu spadkowego.
Czytaj podobne: