Istnieje kilka podstawowych rodzajów zleceń. Zlecenie najczęściej wykorzystywane na rynku FOREX, to tak zwana szybka transakcja.
Forex wprowadzenie, część 2
Szybka transakcje
W okienku poniżej widzimy Szybką transakcję na parę walutową GBPUSD. Za pomocą jednego kliknięcia kupujemy lub sprzedajemy GBPUSD. Odbywa się to po aktualnej cenie, a cena ta jest widocznana przyciskach. Możemy też ustalić tolerancję ceny. Określamy tam procent na jaki godzimy się  aby cena transakcyjna odbiegła od  aktualnie widocznej ceny.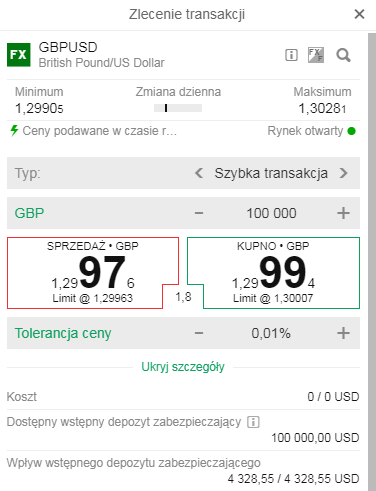 Bardzo podobnym zleceniem jest zlecenie po cenie rynkowej.
Zlecenie po cenie rynkowej
W zleceniu tym, jak sama nazwa wskazuje, zawieramy transakcję  po aktuanej cenie jaka jest na rynku. Na uwagę zasługuje tutaj fakt, iż przy tym zleceniu, jeszcze przed zawarciem transakcji, możemy złożyć zlecenie powiązane typu Stop Loss i Take Profit. Te rodzaje zleceń zostaną omówione poniżej.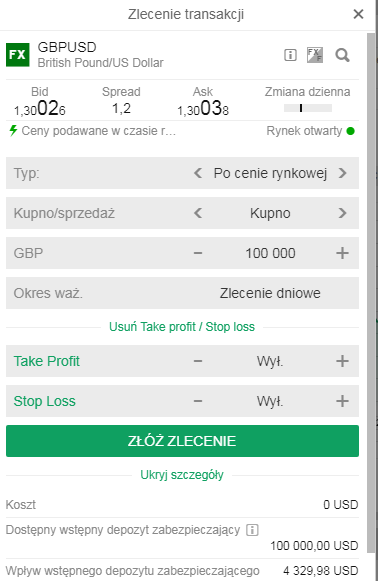 Zarówno szybka transakcja jak i zlecenie po cenie rynkowej, będzie natychmiastowo zrealizowanym zleceniem, o ile tylko są to godziny otwarcia rynku.
Zlecenie Limit
Zlecenie typu Limit, jest zleceniem w którym podajemy swoją cenę. Podajemy cenę korzystniejszą dla nas. Czyli podajemy niższą cenę od ceny bieżącej dla transakcji KUPNA oraz wyższą ceną od bieążcej ceny dla transakcji SPRZEDAŻY.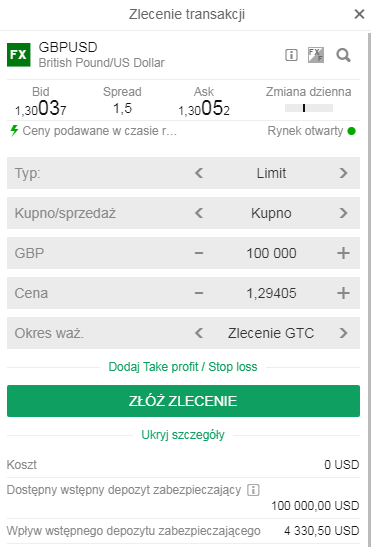 Zlecenie takie będzie zleceniem oczekującym na realizację, do czasu, aż nasza cena będzie miała miejsce na rynku. Możemy też określić przedział czasowy do kiedy takie zlecnie ma być aktualne. Także w tym zleceniu możemu od razu ustawić zlecenie powiązane typu Stop Loss oraz Take Profit.
Czas na przybliżenie, czym są automatyczne zlecenie powiązane typu: Stop Loss oraz Take Profit.
Zlecenie obronne STOP LOSS
Zlecenie Stop Loss daje inwestorowi możliwość zarządzania ryzykiem. Jest to zlecenie powiązane/pomocnicze do głównej transkacji. Jak to działa?
Przyjmijmy, iż kupujemy GBPUSD po kursie 1,30. Możemy złożyć zlecenie stop loss, na poziomie 1,2950. Od tego momentu, jeśli notowania spadną o 50 pipsów, nasza inwestycja zostanie automatycznie zamknięta i tym samym straty wyhamowane. Czyli jeśli notowania GBPUSD nie będę wzrastać, tak jak się spodziewalismy, natomiast zaczną spadać, nasze straty zostana automatycznie wyhamowane jeśli notowania spadną o 50 pipsów.
Jest to bardzo przydane narzędzie, z kilku względów. Po pierwsze nie musimy cały czas siedzieć przez wykresami i sprawdzać notowania. Po drugie, jeśli będzie nagła zmiana notowań, możemy nie mieć czasu i sposobności złożyć zlecenie zamykające naszą inwestycję na czas. I po trzecie i najważniejsze, dyscyplinuje to nasze inwestowanie. Z góry określamy ile jesteśmy w stanie stracić na danej inwestycji i będzie to respektowane.
Zlecenie realizacji zysków TAKE PROFIT
Na takiej samej zasadzie działa automatyczne zlecenie powiązane Take Profit. W tym zleceniu określamy poziom cenowy lub oddalenie w pipsach, jeśli notowania osiągną wskazany przez nas poziom, zlecenie zostanie automatycznie złożone i nasza główna pozycja zostaje zamknięta realizując zyski.
Czyli istnieje możliwość złożenia zlecenie ustalającego poziom i przy tym poziomie, inwestycja zostanie zamknięta i nasze zyski z inwestycji zostaną zrealizowane.
Powyżej zostały przedstawione podstawowe rodzaje zleceń na rynku FOREX. Ich znajomość jest wystarczająca do rozpoczęcia handlu. Istnieje jeszcze kilka możliwości, lecz są one dużo rzadziej wykorzystywane i nie są potrzebne przy stawianiu pierwszych kroków na FOREX.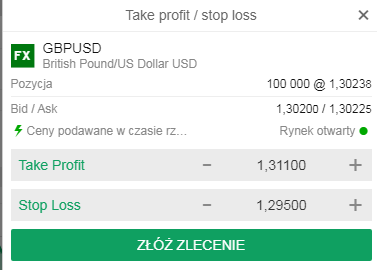 Czytaj podobne artykuły: