FOREX, przegląd głównych par walutowych
Forex (FX) to rynek, na którym handluje się różnymi walutami, a dokładnie mówią różnymi parami walutowymi. Rynek Forex jest największym, najbardziej płynnym rynkiem na świecie, gdzie dzienne obroty sięgają każdego dnia bilionów dolarów. Forex różni się tym od giełdy, iż nie ma scentralizowanej lokalizacji obrotu. Rynek Forex to elektroniczna sieć banków, brokerów, instytucji i indywidualnych traderów.
Wiele podmiotów, od zaczynając od instytucji finansowych po inwestorów indywidualnych, ma potrzeby wymiany waluty, a także rynek Forex służy do spekulocji na temat kierunku ruchu określonej pary walut.
Rynek Forex jest otwarty 24 godziny na dobę, pięć dni w tygodniu. Spójrzmy poniżej z perspektywy długoterminowej jak wyglądają trendy/tendencje na głównych parach wlautowych oraz na niemieckim indeksie DAX.
FOREX EURUSD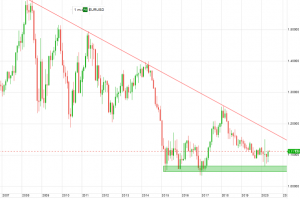 Warto czasami znaleść czas na spojrzenie na Forex i pary walutowe z tak dalekiej perspektywy jak widzimy to na wykresie powyżej. Powyżej widzimy wykres pary EURUSD, gdzie widoczne są notowania EUR względem USD od roku 2007. W lipcu 2008 notowania EURUSD znajdywały się na poziomie 1,6. Od tego czasu widzimy iż EUR osłabiało się względem USD, do marca 2015 roku EUR straciło wobec USD aż -34%, lub ujmując to w pipsacj 5500 pipsów. (Dla EURUSD, dla transakcji o wartości 10 tyś, wartość jednego pipsa to 1 USD.)
Od 2015 widzimy, iż notowania EUR do USD zmianiło swoją dynamikę. Poziom dna z 2015, został obroniony w 2016, następnie w 2017 roku.
Jeśli notowania dolara zaczną się osłabiać względem euro i na skutek wzrostu notowań pary EUUSD zostanie pokonana linia trendu wzrostowego, będziemy mogli mówić o definitywnej zmianie trendu na tej parze walutowej.
Na ten moment widzimy, iż z pewnością osłabianie się EUR zostało wyhamowane i widoczny jest na wykresie pojawiający się popyt.
FOREX GBPUSD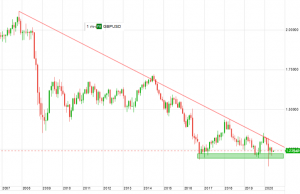 Jak widać na pierwszy rzut oka, bardzo podobną sytuację widzimy na długoterminowym wykresie pary walutowej GBPUSD. Szczyt notowań dla GBPUSD widzimy iż miał miejsce w listopadzie 2007 na poziomie 2,1161, od tego czasu do października 2016 roku, funt stracił wobec dolara aż -45%, 9662 pipsów i zanotował minimalne notowania 1,1499.
Widzimy iż funt osłabiał się wobec dolara już od 2007, BREXIT ogłoszony w czerwcu 2016 był tylko dodatkowym powodem dalszego osłabiania się funta. Nie był to początek nowej tendencji, tylko ciąg dalszym ustanowionego wcześniej trendu. 
Jak widzimy na wykresie poziom dna zanotowany tuż po ogłoszeniu BREXIT, w dlaszym ciągu zostaje zachowany. I tak samo jak dla pary EURUSD, jeśli notowania dolara zaczną się osłabiać wobec innych walut, możemy liczyć na początek nowej tendencji.
FOREX USDPLN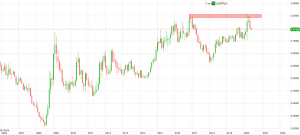 Coś z rodzimego rynku, para walutowa USDPLN, czyli polska złotówka względem amerykańskiego dolara. Aktualnie złotówka jest najsłabsza od 2016 roku! Wcześniej taki poziom był dopiero 18 lat temu w 2002 roku. Czyli widzimy, iż polska złotówka jest rekordowo słaba względem dolara.
Jeśli giełda GPW zanotuje wzrosty, możemy naturalnie liczyć także na umacnienie się złotówki. Czyli mamy już trzeci wykres, który wskazuje iż być może jesteśmy blisko zakończenai długoterminowego trendu i rozpoczecia nowego trendu, czyli umacniania się złotówki i osłabiania notowań dolara.
FOREX Notowania Amerykańskiego Dolara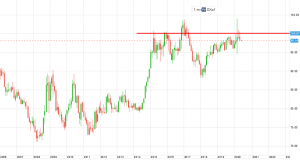 Najlepszym narzędziem do prognozy przyszłych notowań dolara jest bez wątpienia czysty indeks Amerykańskiego Dolara. Pozwyżej widoczny indeks kontraktów Futures dolara, symbol na platformie DIF to DXC1. Indeks dolara pokazuje realację dolara w stosuknu do koszyka kilku walut.
Poziom 100 jest silnym poziomem oporu dla notowań dolara. Notowania dolara odnotowały ten poziom w marcu 2015, w styczniu 2017 kiedy to Donald Trump został prezydentem, dolar zanotował lokalny szczyt na poziomie 103,86 punktów. Na skutek ogłoszonej pandemii covid19 notowania dolara podskoczyły znowy do historycznego poziomu 103,86, lecz prawie natychmiast spadły z tego poziomu w i marzec zamknął notowania na poziomie 99,09 punktów.
aby otrzymywać bieżące analizy FOREX subskrybuj nasz kanał na you tube
Zostań Klientem DIF oraz zaznacz zgodę na otrzymywanie marketingu, celem otrzymywania wszystkich analiz giełdowych jakie sporządza DIF BROKER.