W niniejszym artykule omówię podstawowe pojęcia związane z rynkiem FOREX. Inwestorzy powinni się z nimi zapoznać przed rozpoczęciem inwestowania.
FOREX, podstawowe pojęcia, część 1
Rynek FOREX działa 24 godziny na dobę, 5 dni w tygodniu. Na rynku walutowym Forex, notowane są pary walutowe. Poniżej widok z wyszukiwarki na platformie. Najbardziej popularną parą walutową jest para EURUSD.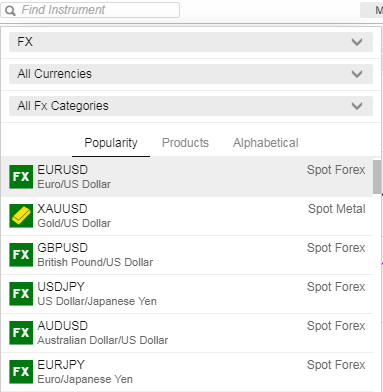 Co oznacza kiedy para walutowa wzrasta
Jeśli notowania EURUSD wzrastają oznacza to, iż euro umacnia się wobec amerykańskiego dolara. Jeśli notowania pary EURUSD spadają oznacz to, iż dolar umacnia się wobec euro.
Kwotowany jest kurs wymiany jednej waluty wobec drugiej. Poniżej wykres notowań pary EURUSD. Widzimy, iż w momencie pisanie tego artykułu kurs wymiany na Forex wynosi 1,099. Czyli oznacza to, iż po tym kursie możemy wymienić 100 EUR na 109 USD.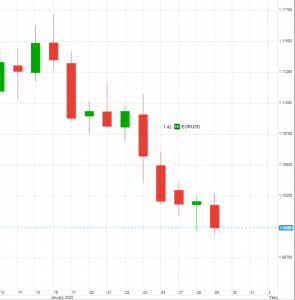 Wiedząc to, rozumiemy już bardziej, iż jeśli notowania pary będę spadały, będzie to oznaczało, iż EUR się osłabia, a USD umacnia.
Jak można zarabiać na rynky Forex?
Jest to bardzo rozległy temat,  lecz dla potrzeb tego artykułu powiem w wielkim uproszczeniu. Jeśli chcemy zarabiać na wzrostach notowań pary to kupujemy parę walutową, otwierając transakcję KUPNA. Od tego momentu, gdy notowania będę wzrastać inwestycja będzie przynosić zyski, natomast jeśli notowania będą spadać, inwestycja będzie przynosić straty.
Jeśli spodziewamy się, iż notowania będę spadać, możemy otworzyć transakcję SPRZEDAŻY, od tego momentu jeśli notowania będą spadać inwestycja będzie przynosić zyski i jeśli będzie wzrastać, inwestycja będzie generować straty. To drugie podejście, zarabiania na spadkach, jest to tak zwana krótka sprzedaż czyli shortowanie.
Dlaczego FOREX jest tak popularny?
Forex jest bardzo popularny ze względu na dźwignię finansową. Czym jest zatem dźwignia finansowa? Dźwignia finansowa, inaczej zwana lewarem, jest narzędziem, które pozwala inwestorowi zawierać transkację o większej wartości, aniżeli kapitał jaki ma zdeponowany na koncie. Można powiedzieć, iż broker udziela inwestorowi pożyczki kapitału na zawarcie transakcji.
Na zdjęciu poniżej widoczne warunki handlu dla EURUSD. Widzimy, iż jest wymagany kapitał na koncie, jedynie w wysokości 4% wartości transakcji.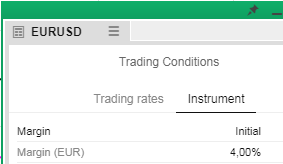 Czyli, aby zawrzeć transakcję o wartości nominalnej 10 000 EUR, wystarczy gdy na koncie będziemy mieli wolną gotówkę w wysokości 400 EUR. Warości te pokazne są poniżej w okienku zlecenie, które są zawsze widoczne, przed złożeniem zlecenia.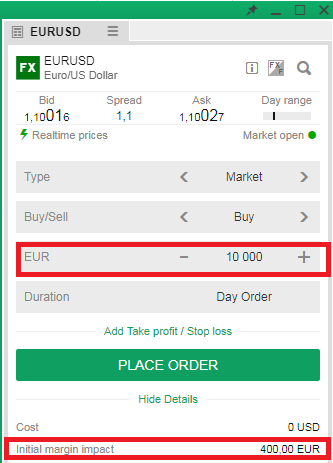 Koszty finansowania przez noc
Jeśli transakcja na Forex będzie otwarta i zamknięta w ten sam dzień, nie występują koszty finansowania. Tylko w przypadkach, kiedy inwestycja jest utrzymywana przez noc, są naliczane koszty finansowana. Sa to koszty zmianne i są zależne od oprocentowań obu kwotowanych walut.
Koszty transakcyjne
Na Forex, w DIF Broker, nie ma prowizji, istnieje tylko spread. Spread jest różnicą pomiędzy ceną kupna i ceną sprzedaży, analogicznie jak ma to miejsce w kantorze walutowym. I tak dla pary EURUSD spred wynosi  1,1 pipsa. Jeden pips dla transakcji o wartości 10 000 EUR jest równy 1 USD.
Zmienność na rynku FOREX
Rynek Forex jest najbardziej płynnym rynkiem świata, notowana tu jest najwyższa zmianność. I tak w przeciągu jednego dnia zmiana notowań często osiąga wielkość, tak jak miało to miejsce 22 stycznia 0,66%. Czyli notowania uległy zmianie 0,66%, mieżąc w pipsach było to 73 pipsy.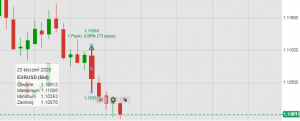 Czytaj podobne artykuły: