EURUSD i osłabianie USD w praktyce
Jeśli inwestycja na giełdzie jest w innej walucie niż waluta bazowa konta inwestycyjnego, na wyniki z inwestycji składają się dwie rzeczy.
zmiana ceny samego instrumentu
zmiana kursu wymiany walut
Jak pokażę na przykładnie poniżej czasami zmiany kursu walut mogę kilkukrotnie przewyższać wyniki z głównej inwestycji.
Przykład:
Waluta bazowa konta to EUR.
Inwestycja w ETF obligacji jest w USD.
Cena ETF jest praktycznie bez zmian, widzimy wzrost 0,01% i wynik z tej inwestycji to -38 USD.
Lecz ponieważ od czasu dokonania inwestycji USD znacznie się osłabiło wobec EUR, na inwestycji jest strata ponad -2000 EUR, z powodu osłabiającego się dolara.
Widok z inwestycji /kliknij aby powiększyć/

Umacnianie się EUR wobec USD
Od dołka z 24 marca widzimy wzrost o ponad 2,3%. Taki procent wydaje się nie duży, ale jeśli tak jak w przykładzie, mówimy o inwestycji 100 tys. USD, powoduje to już znaczne różnice, które należy brac pod uwagę inwestując.
Także jak widać na zamieszczonym przykładnie nie możemy bagatelizować odziaływania kursów walut na nasze inwestycji. Na szczęście istnieją proste i łatwo dostepne dla każdego metody wyeliminowania tego typu ryzyk.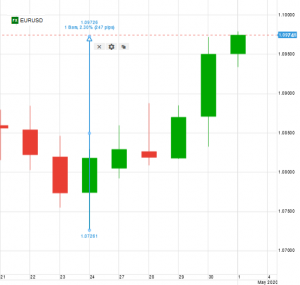 Jak możemy się zabezpieczyć?
Zabezpieczać się przed ryzykiem walutowym możemy w prosty sposób poprzez tak zwany hedge walutowy. Czyli zawarciu na rynku Forex pozycji przeciwstawnej. W naszym przykładzie bedzie to KUPNO pary walutowej EURUSD. Od momentu kupna pary EURUSD na 100 000, inwestor bedzie zarabiał jeśli USD będzie się osłabiał. Kwestia hedgu została szczegółowo omówiona tutaj.
Koszty finansowania
Zawierając transakcję na rynku Forex nie musimy posiadać całego kapitału na koncie, dlatego Forex jest tak szalenie popularny. Poniżej okno zlecenie na parze EURUSD na 100 tys. EUR (wartość transakcji zawsze jest okreśolna w walucie podanej jako pierwsza). Aby otworzyć taką inwestycje nie musimy posiadać 100 tys EUR na koncie, musimy posiadać jedynie 4000 EUR (inicial margin impact). Value Date podana to tylko data do wewnętrznych księgowań, pozycja taka nie ma daty wygasania i pozostaje aktywna dopóki inwestor nie zadecyduje o jej zamknięciu.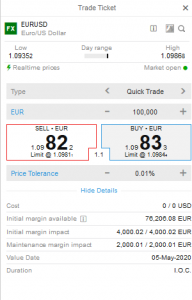 Koszt transakcji jest praktycznie pomijalny gdyż nie ma tutaj prowizji jest jedynie spread, który wynosi tutaj 1 pips, co dla inwestycji 100 tys EUR daje 10 EUR.
Jako iż kapitał jest pożyczony dochodzą także koszty utrzymania pozycji, ale ponieważ stopy procentowe overnight wynoszą aktualnie w okolicach zera, koszty finansowana takiej inwestycji na rok, są poniżej 1%.
Zapraszam do analiz jakie są wysyłane dla Klientów DIF w każdy wtorek oraz czwartek
Analiza z 30 kwietnia zapowiadająca możliwe wzrosty dla EURUSD, kiedy jeszcze EURUSD był na poziomie 1,0855, patrz wideo od minuty 10:30