Jaka jest dźwignia finansowa w DIF Broker?
Na platformie DIF Broker instrumenty typu kontrakty CFD czy Forex mają wbudowaną dźwignię finansową.
W DIF Broker dźwignia dla wszystkich instrumentów jest zgodna z europejską, czyli tak jak na to zezwalają przepisy w Europie.
Nie posiadamy spisu instrumentów z dźwignią, jednak bezpośrednio na platformie zarówno demo jak i rzeczywistej w wyszukiwarce można zawięzić produkty wyszukiwania właśnie do tych z dźwignią np. CFD, czy Waluty Obce (czyli Forex).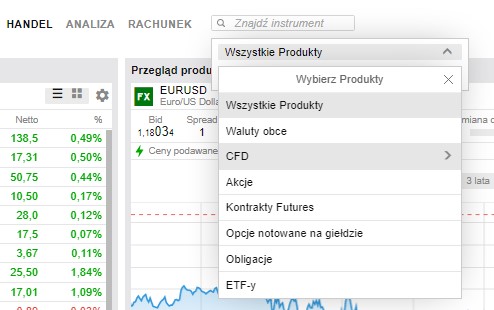 Jak sprawdzić jaka jest dźwignia?
Istnieją dwa sposoby na sprawdzenie dźwigni finansowej dla danego instrumentu. Prześledźmy to na konkretnym przykładzie.
Sposób 1
Po wyborze danego instrumentu z dźwignią np. kontrakt CFD dla Tesli  należy przycisnąć na ikonkę i , jak na zdjęciu poniżej: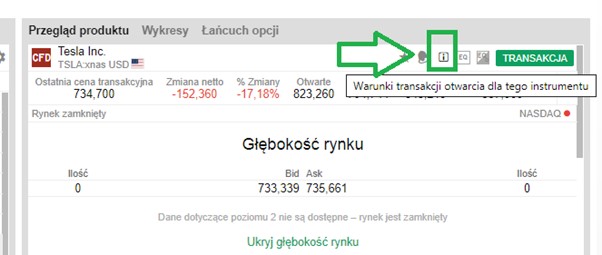 nastepnie należy przełączyć na Instrument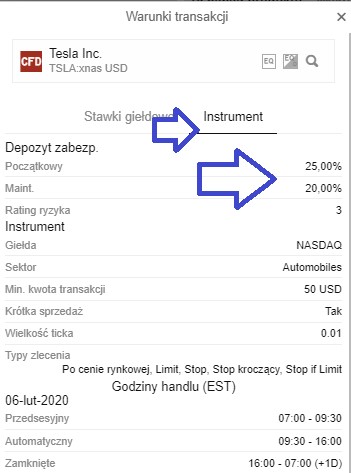 Widzimy iż wymagany depozyt to 25%, czyli dźwignia 1 do 4.
Sposób 2
W okienku transakcji dźwignia to stosunek Wartosci Nominalnej do Wpływu wstępnego depozytu zabezpieczającego (Wymaganego depozytu).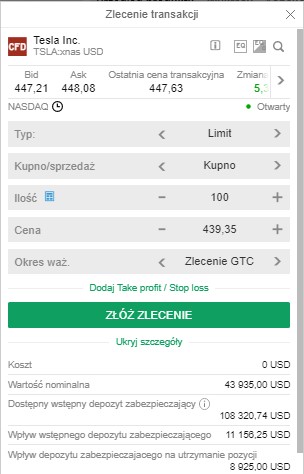 Czytaj podobne: