DOLAR na kluczowym poziomie
Od szczytu indeksu notowań amerykańskiego dolara, który miał miejsce w marcu tego roku na poziomie 103,60, notowania dolara straciły na wartości ponad 11%.
Opierając się na metodologii Dorsey Wright NASDAQ, kiedy dolar straci na wartości ponad 10% przyjmuje się, iż znajdujemy się w środowisku osłabiającego się dolara i możemy oczekiwać kontynuacji tego trendu.
Wykres tygodniowy indeksu dolara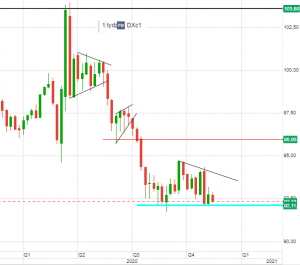 Na wykresie powyżej widzimy omawiany spadek dla indeksu dolara i widzimy także iż spadki zostały zatrzymane na poziomie 92,11 w sierpniu tego roku. Czyli poziom zaznaczony na seledynowo jest poziomem wsparcia.
Jeśli poziom ten zostanie przełamany możemy oczekiwać dalszego osłabianie się dolara. Jeśli zostanie obroniony to dolar w dalszym ciągu będzie znajdował się w korekcie.
Wykres USDRUB, czyli notowania dolara w srosunku do rubla
Poniżej wykres USDRUB, gdy notowania tej pary walutowej notują spadki oznacza to iż dolar się osłabia, a rubel się umacnia.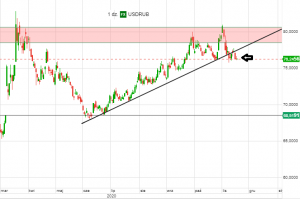 Jest to wykres w długim terminie, widzimy iż notowania znajdują się w rejonie oporu, /obszar zaznaczony na czerwono/. Na skutek odbicia od tego obszaru, notowania przełamały linię trendu wzrostowego. Po przełamaniu nastapiło lekkie cofnięcie /retest/ i widzimy iż notowania są już poniżej tej linii wsparcia. Czyli patrząc na ten wykres już widzimy słabość dolara.
Wykres GBPUSD
Poniżej wykres notowań funta w stosunku do dolara. Gdy notowania rosną oznacza to iż funt umacnia się w stosunku do dolara. Widzimy iż aktualnie trwają wzrosty i notowania przełamują linie trendu spadkowego.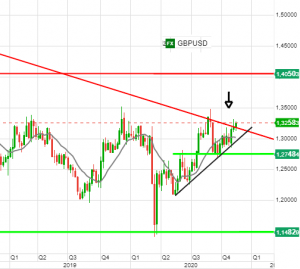 Na powyższym zdjęciu widzać jedynie fragment tej linii trendu, datuje ona swój początek w 2007 roku, także mówimy tutaj o potencjanej zmianie trendu w bardzo długim terminie.
Podsumowanie
Kluczową kwestią dla szerokiej liczby instrumentów finansowych są notowania amerykańskiego dolara. Wiemy, iż dolar znajduje się w trendzie spadkowym oraz wiemy iż aktualnie indeks dolar ponownie testuje poziom wsparcia.
Przełamanie poziomu wsparcia dla dolara będzie także oznaczać zmianę w obrazie technicznym innych par walutowym oraz innych instumentów inwestycyjnych.
Jest to ważny moment do obserwacji tego jak  zachowują się notowania dolara.
Czytaj podobne
Zabezbiecz się przed spadkami DOLARA