Długoterminowa formacja na wykresie złota
Patrząc na długoterminowy wykres funduszu kopalii złota GDXJ, widzimy iż wykres przypomina formację spodka.
Czy jest formacja spodka?
Formacja spodka, z angielskiego saucer, jest jedną z najbardziej zyskownych formacji, ponieważ wzrost cen po wybiciu jest często bardzo duży. Podczas tworzenia się formacji kształt kursu przypomina spodek. Jest to inaczej zwana formacja zaokrąglonego dna. Formacja spodka jest formacją odwrócenia trendu. Czyli zakłada, iż notowania osiągneły już poziom dna i rozpoczyna się trend wzrostowy.
Ważne kwestie dla formacji spodka:
Formacja ma miejsce po wcześniejszym trendzie spadkowym,
Spadek ceny powinien powoli zwalniać tempo i momentum spadkowe, powoli przechodzi w momentum wzrostowe
Poziom wejścia w pozycję wyznaczony jest na poziomie, kiedy to notowania rozpoczęły formować zaokrągloną formację, przełamanie tego poziomu będzie sygnałem wejścia w pozycję.
Po wybiciu z formacji, musi nastąpić potwierdzenie, czyli cofnięcie notowań i odbicie i kontynuacja wzrostów.
Poniżej zrealizowana formacja spodka na przykładzie akcji AMD
Wykres akcji AMD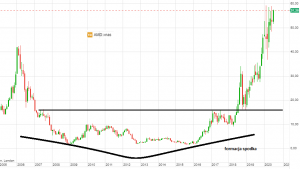 Na powyższym przykładzie widzimy zrealizowaną formację spodka. Na wykresie zaznaczona została linia granicy formacji. Pod koniec roku 2018 nastąpiło wybicie notowań z formacji i co ważne nastąpiło także potwierdzenie tego wybicia poprzez cofnięcie notowań do tej granicy. Po odbiciu rozpoczęła się realizacja formacji i zmiana trendu na trend wzrostowy.
Dla fundusze GDXJ kopalnii złota (wykres poniżej), widzimy potencjalną formację spodka. Jest to formacja we wczesnym stadium, ale właśnie dlatego może być to atrakcyjne dla inwestorów.
Wykres funduszu GDXJ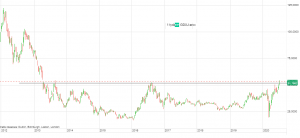 Powyżej notowania ostatnich lat dla funduszu ETF GDXJ. Widzimy iż notowania przez ostatnie lata formowały zaokrąglone dno, tempo spadków malało i widzimy iż przewagę uzyskuje strona kupujących.
Aktualna sytuacja na wykresie
W tym tygodniu notowania GDXJ przełamują linię granicy tej formacji, czyli widzimy realną szansę na realizację formacji odwrócenia trendu. Aby jednak ona mogła być w pełni potwierdzona, przełamanie musi być teraz zdecydowane do góry, a następnie powinien być widoczny ruch korygujący wzrosty i następnie odbicie do góry.
Pamiętajmy, iż omawiamy tutaj wykres tygodniowy fundusza złota, gdzie notowania formowały kształt tej formacji przez lata! Także inwestorzy chcący inwestować w złoto powinni mieć także horyzont czasowy także o zakresie na długie lata.
Kapalnie złota to podwyższona zmienność
Należy także dodać, iż fundusz GDXJ chartakteryzuje się bardzo wysoką zmiennością, tym bardziej iż jest to fundszu drobnych kopalnii złota, a drobne firmy z reguły generują podwyższoną zmienność notowań.
Wystarczy porównać wyniki na przykład funduszu GDXJ oraz GLD za ostatnie 3 miesiące. Fundsuz GDXJ za ostatnie 3 miesiące przyniósł inwestorom zysk 72%, natomiast fundusz GLD 9% (dane na 13.07.2020). Także widzimy iż różnice są ogromne.
Podsumowanie
Na giełdzie jest pełen wachlarz możliwości, znajdzie tu coś ciekawego zarówno inwestor akceptujący mniejsze ryzko, jak i inwestora o wyższej tolerancji na ryzyko.