Czym jest trading?
A raczej czym jest Trading dla mnie.
Trading dla wielu jest postrzegany jako wysoce ryzykowny i spekulacyjny, gdzie w szybki sposób można wyzerować konto. Ale nie taki diabeł straszny jak go malują. Ryzko owszem istnieje, ale można je okiełznać, co przedstawię w niniejszym artykule. Poza tym bez ryzka nie ma możliwości zysku. Jedno z drugim jest ściśle powiązane.
Czym zatem jest trading?
Trading jest zawieraniem inwestycji z myślą o bardzo krótkim horyzoncie czasowym. Nakreśliłabym tutaj od kilkudziesięciu minut do kilku dni. Najczęsciej jednak będzie to kilka godzin.
Przy tak krótkim okresie czasu trwania inwestycji, wahania ceny siłą rzeczy nie mogą być zbyt duże, załóżmy, iż wynoszą one 0,9%. Czyli poniżej jednego procenta. Taka zmiana ceny nie jest wysoka, ale ponieważ inwestycja w tradingu jest na instrumentach z dźwignią finansową, końcowy wynik dla inwestycji to często nie +/-1% ale  +/- 10%. Czyli już gra warta świeczki, tym bardziej, iż mówimy tutaj o kilku godzinach inwestycji.
Dlatego właśnie trading jest tak szalenie popularny. Gdyż inwestorzy liczą na duże zyski w krótkim czasie. Lecz szansa na wysokie zyski nierozerwalnie łączy się z ryzykiem dużej straty.
Jak można ograniczać ryzyko w trading?
Podstawowym narzędziem ograniczenia ryzyka to stosowanie zlecenie typu stop loss. Zacznijmy od początku. Trading najczęściej jest prowadzony w oparciu o analizę wykresu, czyli w oparciu o tak zwaną analizę techniczną.
Z tematem analizy technicznej możesz zapoznać się:
a) oglądając wideo wprowadzenie do analizy technicznej
b) śledząc dwa razy w tygodniu wideo analizy techniczne na YouTube DIF Broker Polska
Stop loss na przykładzie
Czyli przykładowo, wejście w pozycję może nastąpić w oparciu o odbicie od linii trendu. Poniżej aktualne zdjęcie indeksu DAX. Świeca dzienna z dnia wczorajszego jest pro wzrostową świecą i jest to odbicie od linii trendu wzrostowego. Więc istnieją pewne techniczne przesłanki do otwarcia pozycji kupna. Lecz nie mamy absolutnie żadnej gwarancji, iż notowania rozpoczną wzrosty z aktualnych poziomów, może tak być, ale nie musi. I tu właśnie z pomoca przychodzi nam obronne zlecenie STOP LOSS.
Wykres 4 godzinny indeksu niemieckich akcji DAX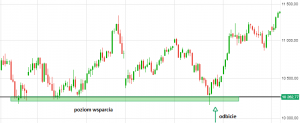 Na powyższym wykresie DAX z maja, widzimy iż notowania znajdywały się na zielonej linii wsparcia i nastąpiło odbicie od tego poziomu, co obrazuje świeca pin. Załóżmy iż otwieramy pozycję kupna po uformowaniu się świecy pin.
Jeśli ceny spadłyby poniżej tego minimum, czyli poniżej świecy pin, to nasz POMYSŁ na rozpoczęcie inwestycji nie będzie już aktualny. Pamiętajmy, iż pozycja została otwarta, dlatego iż notowania ODBIŁY od pimoimu wsparcia. Jeśli notowania zeszłyby jednakakże poniżej poziomu wsparcia, moglibyśmy zamknąć naszą inwestycję akceptując poniesioną stratę.
Stop Loss właśnie do tego służy. Czyli gdy otworzymy pozycję kupna, od razu składamy także zlecenie stop loss z ceną na poziomie poniżej świecy wejścia. Jeśli cena spadnie poniżej tego poziomu, nasza inwestycja automatycznie zostanie zamknięta.
Zdyscplinowany trading
Stosowanie zlecenia stop loss jest kwintesencją udanego tradingu. Gdyż otwierając pozycję zakładaliśmy wzrosty na skutek odbicia, gdy zostaną one zanegowane, wycofujemy się z inwestycji, akceptując niewielką stratę. Gdybyśmy tego nie zrobili, stałoby się to hazardem i łudzeniem się, iż może się odwróci. Ale nie byłaby to już inwestycja w oparciu o analizę techniczną.
Skalkulowane ryzko
Stosując zlecenie stop loss, od samego początku określasz ile jesteś w stanie zaryzykować na daną pozycję.
Dlaczego zatem tak wielu traderów traci?
Sądzę, iż głównym winowajcą są ludzkie emocje. W końcu cena może iśc albo w górę albo w dół, a jednakże większość tradujących ma negatywne wyniki. I ma to miejsce nie tylko w tradingu. Także dla tradycyjnych długoterminowych inwestycji, dla aktywych inwestorów stanowi ogromne wyzywanie osiąganie wyników wyższych aniżeli wyniki giełdy.
Emocje są najgorszym doradcą inwestycyjnym
Jeśli w tradingu czy też inwestycjach będziemy się kierować emocjami, nie będzie to dobre posuniecie. Najczęściej spotykane emocje to strach i nadzieja. Nadzieja, iż stratne pozycje odrobi i strach iż zyskowna inwestycja odwróci swój trend. Prowadzi to do trzymania stratnych pozycji i zbyt szybkiego zamykania zyskownych pozycji. Czyli dokładnie na odwrót niż powinniśmy robić. Jest to tamat rzeka.
W kolejnym wpisie przedstawie podstawowe założenia systemu do zawierania pozycji w tradingu. Czyli między innymi takie kwestie jak kiedy otworzyć pozycję, kiedy zamknąć akceptując stratę oraz kiedy zamknąć inwestycję realizując zysk.
Czytaj podobne
Dźwignia finansowa w DIF Broker