Ceny palladu na rekordowym poziomie
Notowania palladu, pierwiastka zaliczanego do metali szlachetnych do dnia 21 lutego zyskał od początku roku 40%. To bardzo imponujacy wynik. Nasuwa się od razu pytanie, czemu tak drożeje pallad oraz czy to koniec wzrostów, czy być może dopiero ich początek.
Analiza fundamentalna palladu
Aktualne silne wzrosty cen Palladu są odzwierciedleniem  wzrostu zapotrzebowania, czyli wzrostu poputu na pallad. Równocześnie produkcja, czyli podaż palladu jest ograniczona.  Pallad jest zwykle wydobywany jako produkt uboczny przy wydobyciu platyny i niklu, surowców, które nie zostaną w najbliższym czasie poparte żadnymi nowymi projektami wydobywczymi.
Diselgate i wzrost zapotrzebowania na pallad
Skandal niemieckiego Volkswagena dotyczący emisji zwany Diselgate miał miejsce we wrześniu 2015 roku, wtedy to amerykańska agencja Environmental Protection wysłał zawiadomienie o naruszeniu ustawy o czystym powietrzu do niemieckiego producenta samochodów Volkswagen Group.
Zaostrzenie przepisów dotyczących emisji i bardziej rygorystyczne systemy testowania pojazdów po katastrofalnym skandalu "Dieselgate" w Niemczech spowodowały, że przemysł motoryzacyjny nabył  rekordową ilość 9,7 miliona uncji palladu, jak twierdzi Johnson Matthey, producent katalizatorów samochodowych
Zaostrzenie przepisów w Chinach
Powstały nowe przepisy w Chinach. Chiny wprowadziły bardziej surowe kary za zanieczyszczenia w szybko rozwijającej się przemysłowej gospodarce. Przewidywany jest wzrost na zapotrzebowania na pallad co najmniej w wysokości 30%  na pojazd, co dodatkowo zwiększy i tak już zwiększony globalny popyt.
Podaż palladu
Obecnie ponad 75% światowych zasobów świeżego palladu jest wytwarzanych tylko przez RPA i Rosję łącznie. Około 38% wszystkich nowych wydobytych zasobów palladu pochodzi z Afryki Południowej, a nieco ponad 38% obecnych na świecie zasobów kopalni palladu pochodzi z Rosji.
Popyt palladu
Około 70% światowego zapotrzebowania na pallad dotyczy samochodowych katalizatorów stosowanych w celu zmniejszenia emisji spalin z silników samochodowych CO2.
Nieco ponad 10% rocznego zapotrzebowania na pallad pochodzi ze zużycia energii elektrycznej w zastosowaniach półprzewodnikowych, galwanizacjach i ogniwach akumulatorowych. Kombinacja zastosowań dentystycznych i chemicznych stanowi prawie 10% dzisiejszego rocznego globalnego zapotrzebowania na pallad. Biżuteria z palladu, popyt inwestycyjny i inne zapotrzebowanie do zastosowań przemysłowych zaspokaja pozostałe 5% rocznego zapotrzebowania na pallad na całym świecie.
Bilans popytu i podaży dla palladu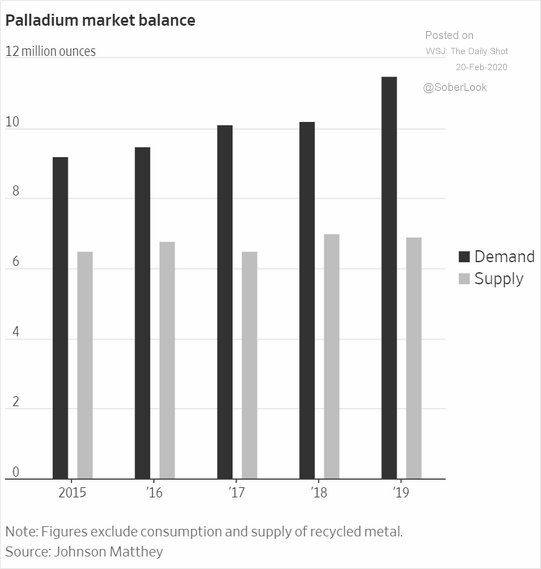 Pallad inwestycyjny
Na koncie maklerskim w DIF Broker istnieją instrumenty, które pozwalają inwestować we wzrosty cen palladu jak i granie na spadki cen palladu. Inwestowanie z dźwignią finansową lub bez dzwignii finansowej. Przed przystąpieniem do inwestycji, należy poznać dostępne instrumenty.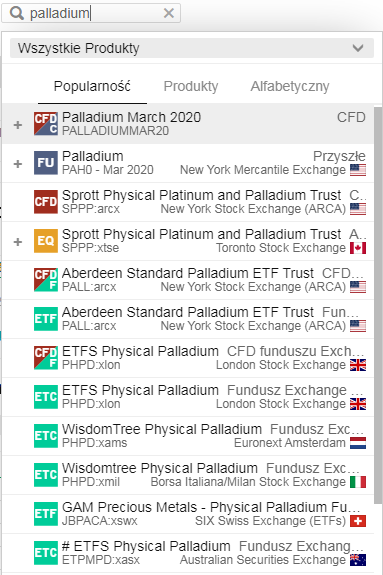 Powyżej wyniki wyszukiwania po wpisaniu słowa PALLADIUM w wyszukiwarce na platformie inwestycyjnej DIF. Jak widać ukazuje się bardzo dużo rezultatów i musimy wiedzieć, jakie są różnice pomiedzy poszczególnymi instumentami.
Kontrakt CFD na pallad
Pierwszy wynik jest to kontrakt CFD. Kontrakt CFD jest instrumentem z dźwignią finansową i ma ograniczony czas trwania np. ten widoczny to kontrakt marcowy po kliknięciu na + ukaże się także kontrak czerwcowy. Wartość nominalna jednego kontraktu to 2 600 USD, marża wymagana dla otwarcia takiej inwestycji to 260 USD.
Kontrakt futures na pallad
Drugi widoczny instrument to kontrakt futures. Kontrakt futures także wykorzystuje dźwignię finansową. Wartość jednego kontraktu to 260 000 USD, marża wymagana do otwarcia takiej inwestycji to 19 000 USD.
Fundusz ETF na pallad
Kolejny instrument w wynikach to kontrakt CFD na fundusz ETF i kolejny wynik to fundusz ETF Sprott Phisical Platinum and Palladium. Następnie mamy kontrakt CFD na kolejny ETF i kojelny wynik to fundusz ETF Aberdeen Standard Physical Palladium Shares ETF (NYSEArca: PALL).
Słowo uwagi
Należy tutaj rozróżnić inwestowanie w czyste fundusze ETF oraz w kontrakty CFD na fundusz ETF. Inwestowanie w czysty ETF jest inwestowaniem bez dzwignii, /za wyjątkiem przypadków, kiedy to sam ETF ma wbudowaną dźwignie w sobie/. Z kolej inwestycje w CFD na ETF jest to instrument pochodny, gdzie zawsze mamy do czynienie z dźwignią.
Należy pamiętać iż fundusz ETF jest to produkt złożony i jego zrozumienie może być trudne. Przed inwestowaniem zapraszamy do zapoznania się z głównymi ryzykami opisanymi pod KID. Natomiast pod tym linkiem, znajdują się informacje na temat głównych ryzyk dla CFD oraz futures.
Czytaj podobne: