Tradycyjnie bezpieczne aktywa i początek 2020 roku
Dziś jest 25 lutego 2020 i patrząc na wyniki aktywów inwestycyjncyh od początku tego roku, widzimy iż metale szlachetne przynoszą wyższe stopy wzrotu aniżeli indeks amerykańskich akcji. Tam gdzie ceny wzrastają, tam jest przewaga kupujących, czyli widzimy iż w tym roku inwestorzu skupiają się głownie na aktywach tradycyjnie postrzeganych jako bezpieczne aktywa, czyli złoto i metale szlachetne.
Spójrzmy jak przedstawiają się notowania poszczególnych klas aktywów, od początku tego roku.
Wykres dzienny indeksu SP500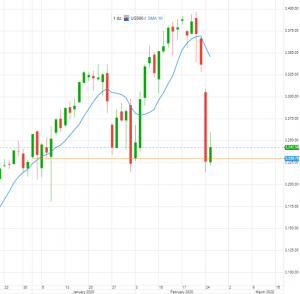 Na wykresie powyżej pomarańczowa, pozioma linia to poziom minimów w sesji 2 stycznia 2020. Czyli widzimy, iż co prawa amerykański indeks giełdy notował w tym roku nowe szczyty wszech czasów i zantował wzrost rzędu 5%, lecz w tym momencie notowania powróciły do poziomów z początku roku.
Wykres dzienny funduszu złota GLD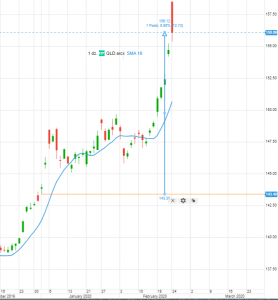 Powyżej wykres dzienny funduszu SPDR Gold Shares, na wykresie pomarańczowa, pozioma linia to poziom minimum z pierwszej sesji giełdowej tego roku. Fundusz złota w tym roku wzrósł w tym roku około 10%, na ten moment jest to wzrost rzędu 8%.
Niemniej jednak dokonując decyzji inwestycyjnych musimy pamiętać, iż akcje amerykańskie w dalszym ciągu znajdują się w silnym trendzie wzrostowym.