Analiza Techniczna, giełdy z rana
Czy indeks dolara zdoła utrzymać się ponad poziomem 99,00?
Analiza Techniczna, giełdy z rana
Spójrzmy jak rozwija się sytuacja z notowaniami kursu Dolara. Od poziomu 100 dolar w przeciągu dwóch sesji giełdowych stracił 1%. W dniu dzisiejszym patrząc na wykres kontraktów terminowych na indeks Dolara widzimy wzrostowy ruch korekcyjny, który sprowadził notowania na poprzednio przełamaną linię wsparcia.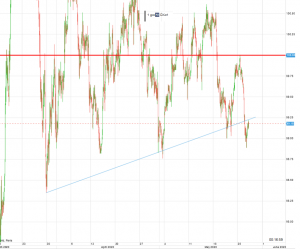 Przełamane wsparcie, staje się aktulanym oporem. Także w tym momencie, jeśli, notowania Dolara nie zdołają utrzymać się ponad ceną 99, będzie to zapowiadało prawdopodobieństwo dalszego osłabiania się kursu Dolara.
Spójrzmy jak kurs dolara przekłada się na parę EURUSD. Poniżej wykres 1 godzinny, na którym widzimy, iż w ostatnim czasie to popyt przejął kontrolę nad tą parą walutową.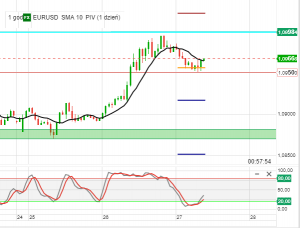 Jako, iż inwestowanie zgodnie z trendem, daje większe prawdopodobieństwo sukcesu, w takim kierunku będę patrzeć na ewentialne okazje inwestycyjne. Widzimy iż z rana notowania tej pary walutowej znajdują się na dziennym wskaźniku Pivota, który jest naruralnym wsparciem. Na wykresie godzinnym wskaźnik RSI znajduje się w momencie wyprzedania.
Oczywiście tradując/inwestując nie możemy zapominać o fakcie, iż giełdy znajdują się w niepewenej sytuacji i niezaleznie od stosowanej strategii należy ograniczać swoje ryzko stosują zlecenia ograniczające straty typu Stop loss.
Aby zapoznać się z platformą inwestycyjną, zapraszam do pobrania darmowej wejsji DEMO. Demo zasilone jest 100 tys. wirtualnych USD, można też w prosty sposób dostosować tę kwotę do mniejszej, tak aby sprawdzić jakie są wymagania depozytowe dla poszczególnych inwestycji. Racunek – Ustawienia- Resetuj Demo.