Amerykańskie giełdy – kluczowy poziom notowań akcji
Ważne jest teraz na jakich wycenach zamknię się DZIŚ indeks amerykańskich akcji SP&500.
Zazwyczaj prowadzę analizę amerykańskiej giełdy wykorzystując wykres notowań indeksu SP&500, tym razem zacznę od innego indeksu, a mianowicie indeksu Dow Jones.
Poniżej widok indeksu w długim terminie, widzimy notowania cen akcji od 2018 roku. Widzimy także, iż notowania akcji w TYM MOMENCIE osiągnęły poziom cen, który jest poziomem OPORU.
Indeks Dow Jones, linia oporu mająca początek w 2018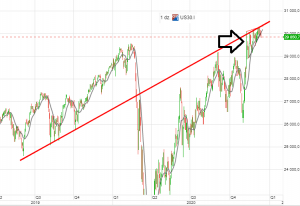 W 2018 linia trendu, spełniała funkcje wsparcia dla ceny. Z anlizy technicznej wiemy, iż dawny, przełamany poziom wsparcia, staje się poziomem OPORU.
I tak widzimy, iż we wrześniu notowania indeksu odbiły się od tej linii po raz pierwszy. Jednakże w listopadzie notowania akcji, ponownie wzrosły i od listopada ceny dosłownie WALCZĄ z tym poziomem oporu.
Spójrzmy zatem na indeks Dow Jones, w zbliżeniu, skupiając się na Price Action od listopada 2020.
Indeks Dow Jones, Price Action listopad-grudzień 2020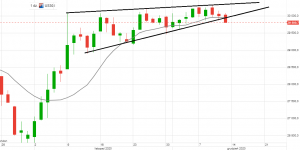 W czasie mojej wczorajszej analzy na kanale DIF na YT przedstawiając indeks Dow, przedstawiłam trójkąt widoczny powyżej JAKO KLUCZOWĄ FORMACJĘ.
W dniu dzisiejszym, w piątek widzimy, iż występują spadki notowań w wysokości -0,53%, wiec nie są to duże spadki, lecz powodują one, iż notowania przełamują poziom wsparcia, czyli dolne ograniczenie formacji trójkata, widocznego wyżej.
Dow Jones podsumowanie
Notowania indeksu giełdowego Dow Jones znajdują się na PODWÓJNYM poziomie opory, wynikajacego z wykresu w długim terminie, jak i formacji trójąta z ostatnich kilku tygodniu.
Analiza indeksu S&P500
W ostatnim tygodniu notowania amerykańskiego indeksu S&P500, zdołały ODBIĆ się od linii widocznej na wykresie poniżej. Widoczna jest ziolona świeca  z cieniem, co świadczy o wyraźnym odbiciu. Takie odbicie jest pozytywne dla dalszym notowań cen akcji.
Jednakże w tym tygodniu mają miejsce niewielkie spadki wycen, rzędu -2%, co wyrysowuje spadkową, czerwoną świecę na wykresie tygodniowym. Jeśli spadki będę kontynuowane, to automatycznie ODBICIE z zeszłego tygodnia straci swoją siłę.
Na teraz, wygląda na to, ż jest to pierwszy sygnał alarmowy i może zapowiadać korektę notowań.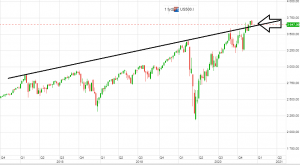 Podsumowanie
Czy aktualne wyceny będą stanowić GWIAZDKĘ  na choince, wyznaczającą tym samym szczyt ? Na te pytanie nikt nie jest w stanie odpowiedzieć. Ale możemy na bieżąco obserwować pozomy na wykresach, tak aby móc pozostać po właściwej stronie rynku!
Wnioski
Analiza techniczna pomaga w bardzo szybki sposób dostosować nasze inwestycje oraz trading do zmienieniajacej się sytuacji. Tydzień temu, notowania podpowiadały dalsze wzrosty, w tym momencie sytuacja wygląda już inaczej.
Szczególnie dla traderów, nie jest ważne czy notowania idą do góry czy w dół, ważne, aby być po właściwej stronie rynku!
Zapraszam także do wczorajszego materiału wideo, gdzie bardziej szczegółowo analizuję amerykańskie indeksy akcji.